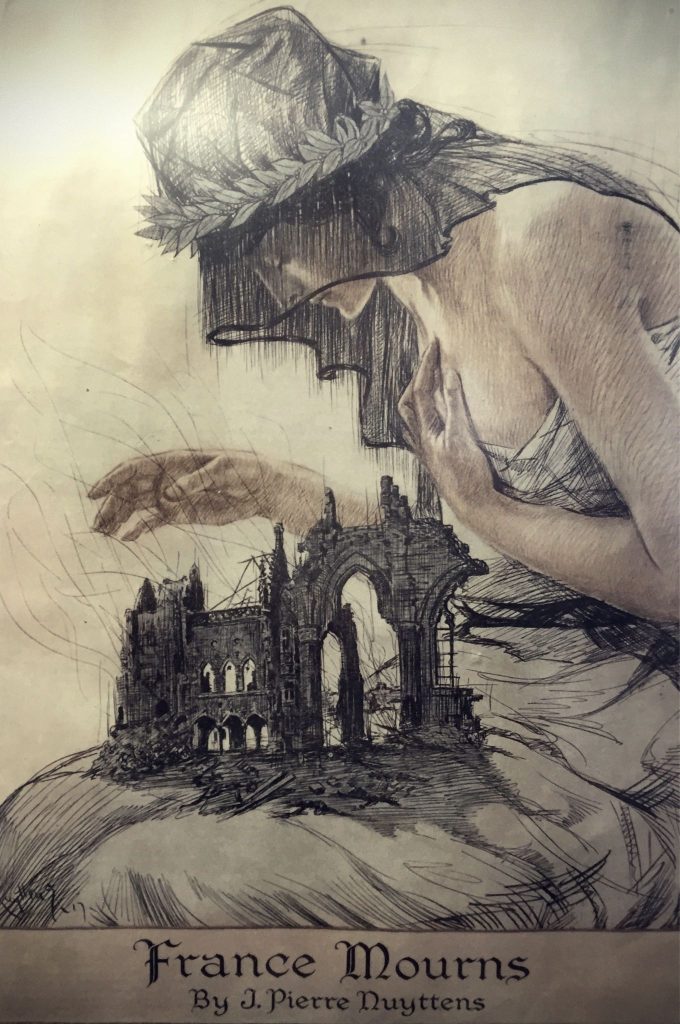 A poster image cut from a magazine published after the French Revolution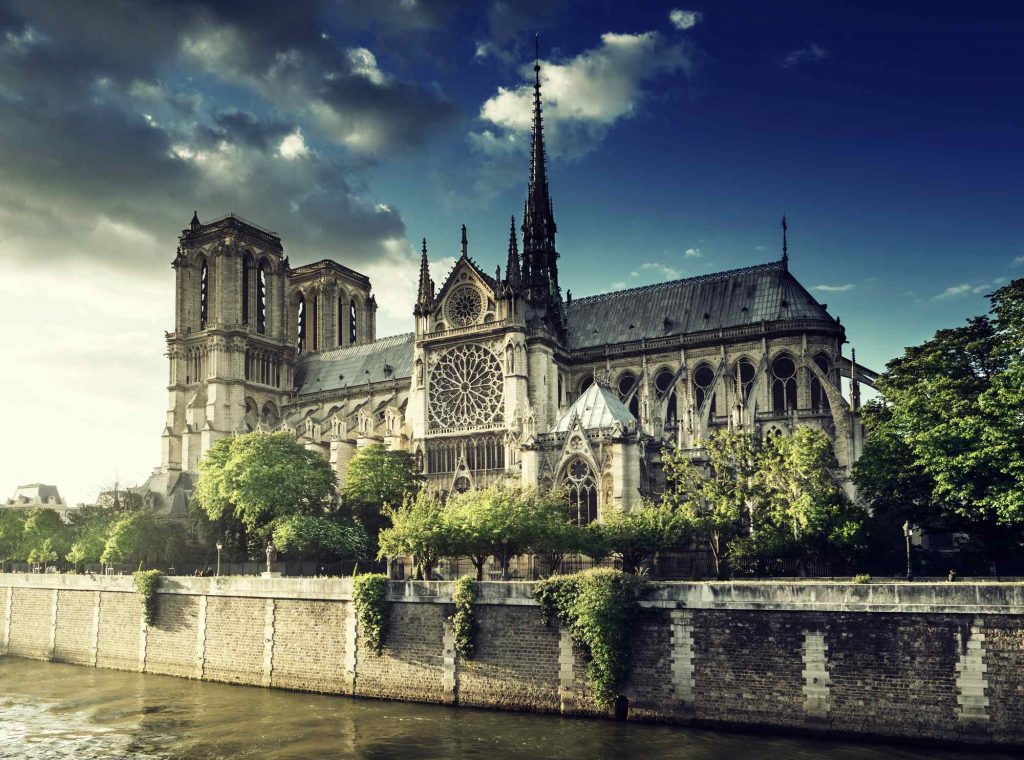 Cathedral of Notre Dame… 200 years to build…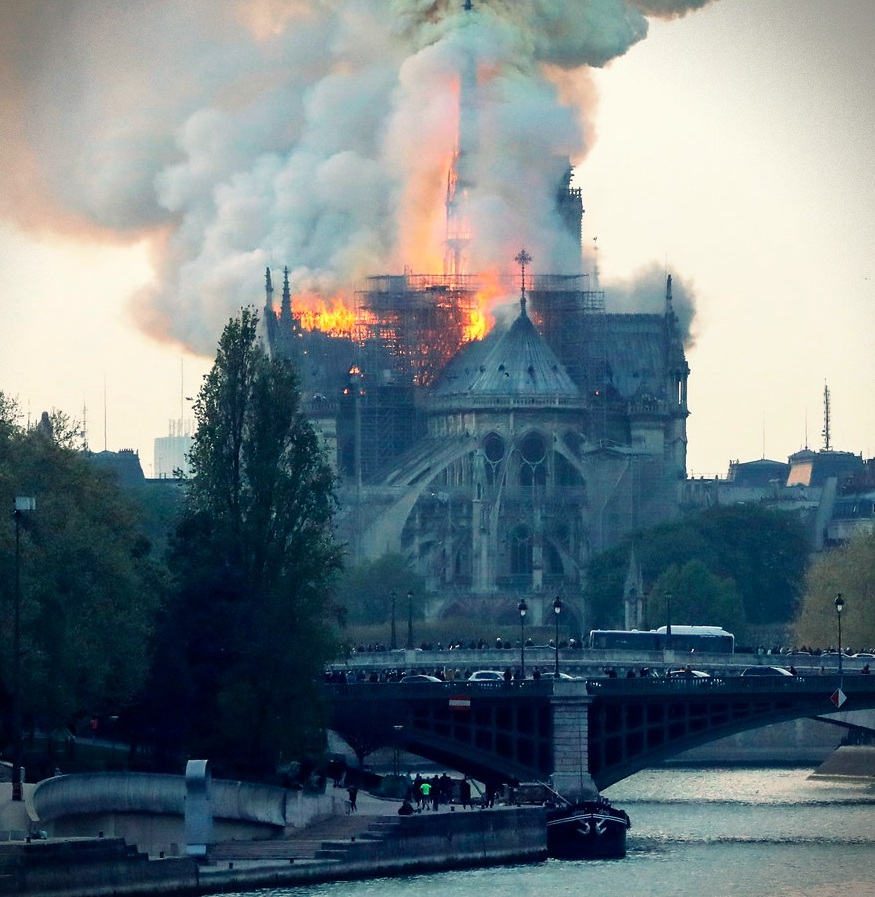 … 2 hours to burn, April 15th, 2019
Because I love you, I want to show you what I am doing in the world today.
I want to prepare you for what is to come.
Days of darkness are coming on the world, days of tribulation…
Buildings that are now standing will not be standing.
Supports that are there for my people now will not be there.
I want you to be prepared, my people, to know only me and to cleave to me
and to have me in a way deeper than ever before…
—Prophecy given in Rome on Pentecost Monday of May, 1975
in the presence of Pope Paul VI in St. Peter's Square, Italy;
spoken by Dr. Ralph Martin
A West that denies its faith, its history, its roots, and its identity
is destined for contempt, for death, and disappearance.
—Cardinal Sarah, ten days before the fire; Catholic Herald, April 5th, 2019
It is the loss of the symbol of Christianity in Europe.
—CBSN news commentator during the fire, April 15th, 2019
Western society is a society in which God is absent 
in the public sphere and has nothing left to offer it. 
And that is why it is a society in which the measure of humanity 
is increasingly lost. 
—EMERITUS POPE BENEDICT XVI, April 10th, 2019, Catholic News Agency
God will take away our churches if that's what's necessary
in order to purify His Bride and restore His Church. Christianity isn't
about our buildings, but our witness to Jesus.
—Mark Mallett, spontaneous remark to a teacher's retreat on
April 12th, 2019
France will be the starting point for the world-wide chastisements, 
as France was Catholic before other nations and
was granted more graces than other countries.
It (France) has been given the mission to defend the Church 
and the True Faith through times of persecution and heresy. 
Because of its failures and its rejection of its heaven-blessed monarchy, 
it would be struck first, but then the punishments 
would spread throughout the world.
—from E.A. Bucchianeri's summary of the prophecies of Marie-Julie Jahenny in 
We Are Warned, The Prophecies of Marie-Julie Jahenny, French mystic, b. 1850;
from Mystics of the Church
…Apocalyptic… —Rector of Notre Dame on the fire, Paris, April 15th, 2019
IT doesn't take a prophet to see what is unfolding at this hour. In fact, in all the news coverage on this fire, little is being said about other churches that are being intentionally burned, vandalized or desecrated in France since the beginning of 2019—at least ten incidences, according to some news outlets.
The Church of St. Sulpice in Paris on March 17th, 2019 was set on fire: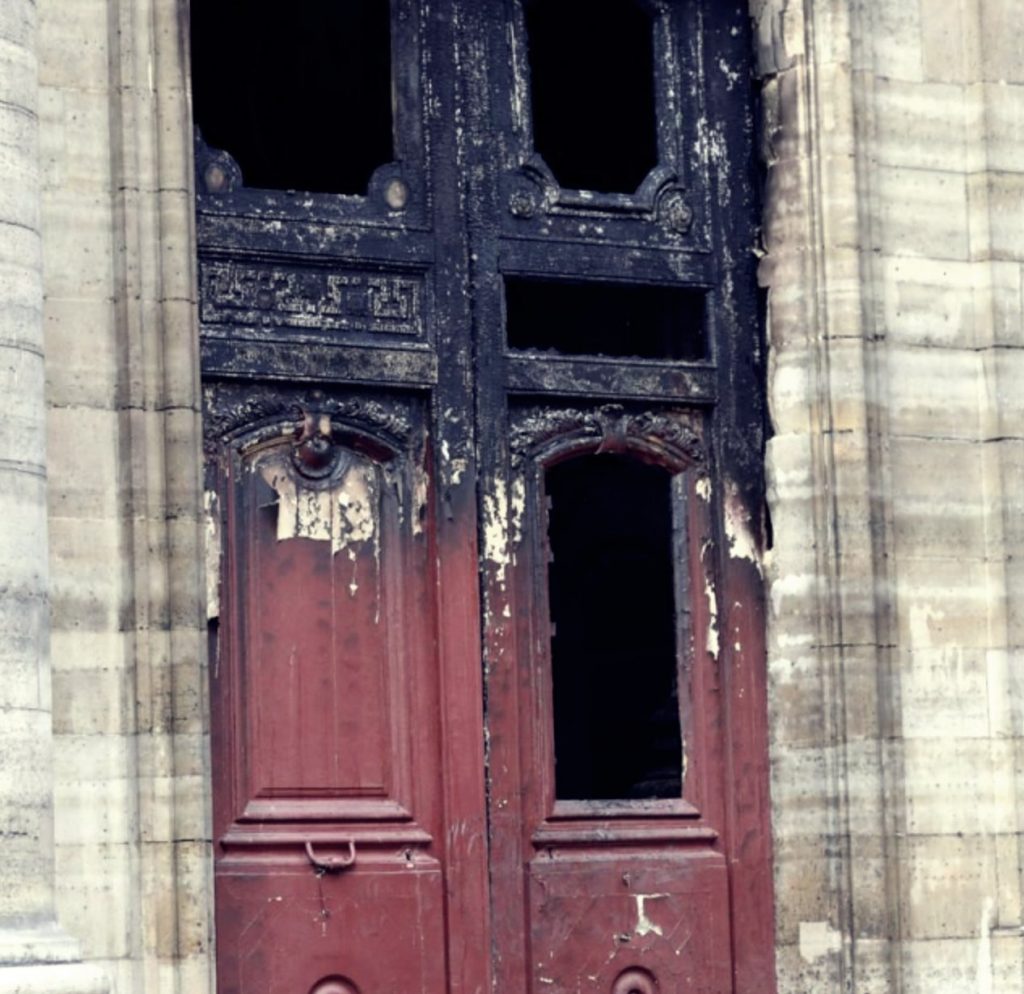 At St. Nicholas Catholic Church in Houilles, a 19th century statue of the Virgin Mary was destroyed: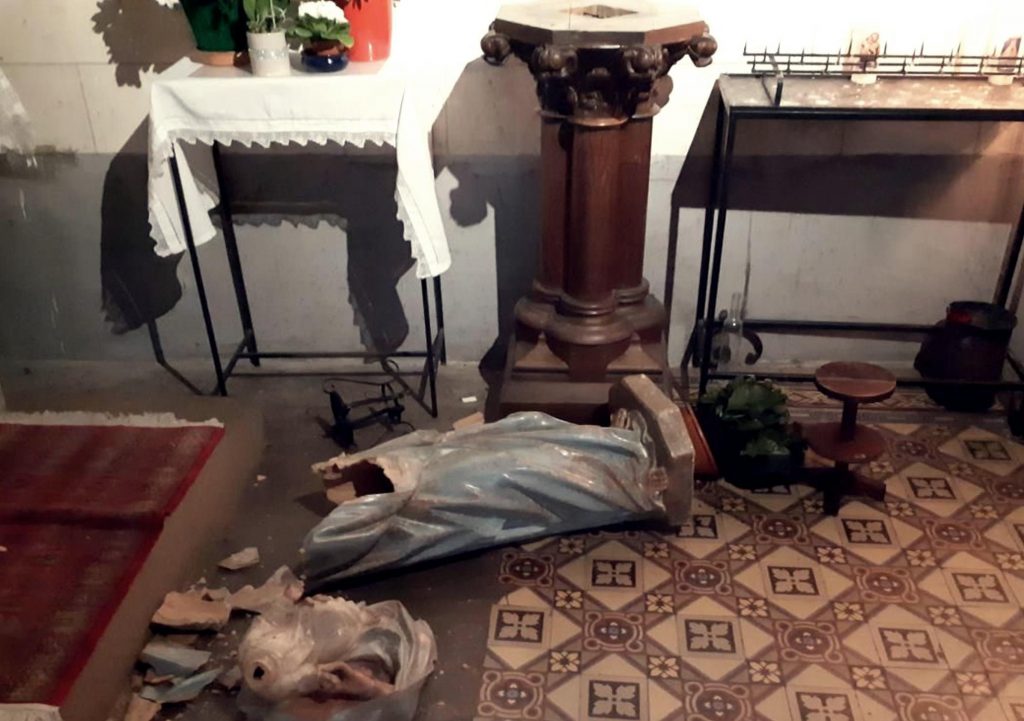 Other churches reported altars being scorched, crosses being broken, human feces marking a wall with a cross, and an incidence of Eucharistic hosts being scattered on the floor.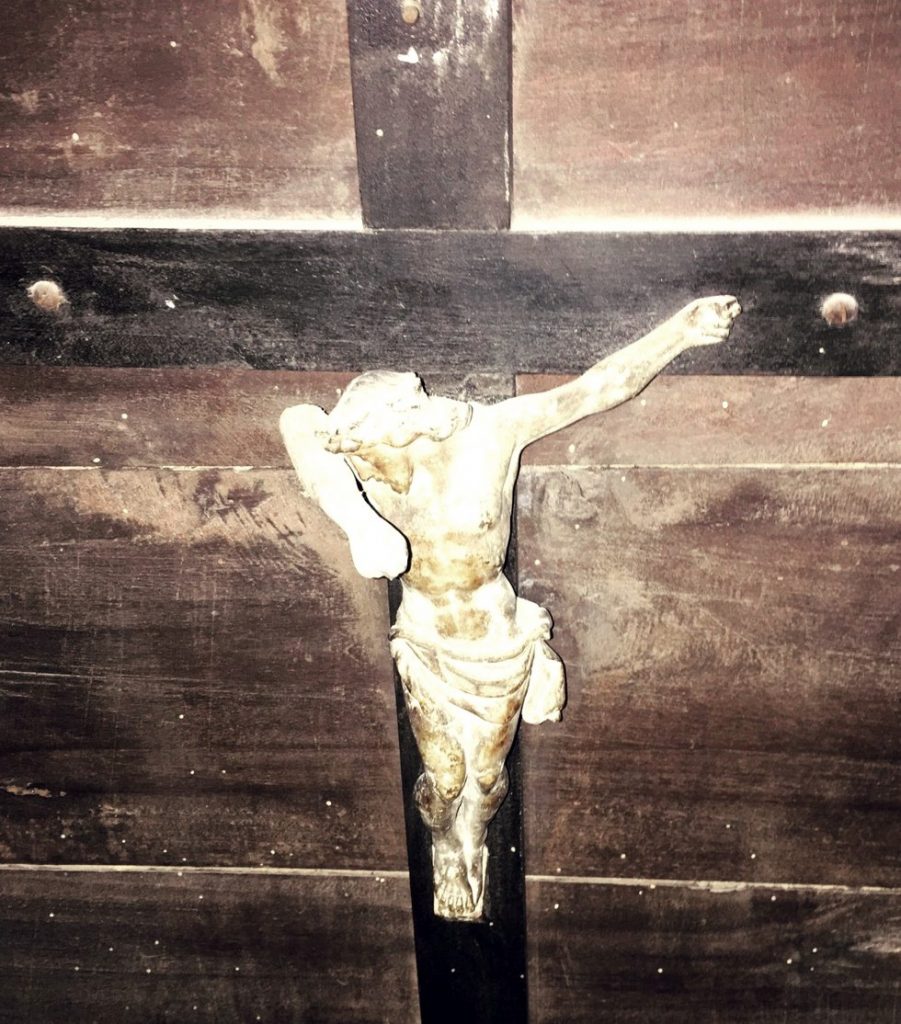 Compare the above photo of the Cross to the one's in this writing: Sorrow of Sorrows.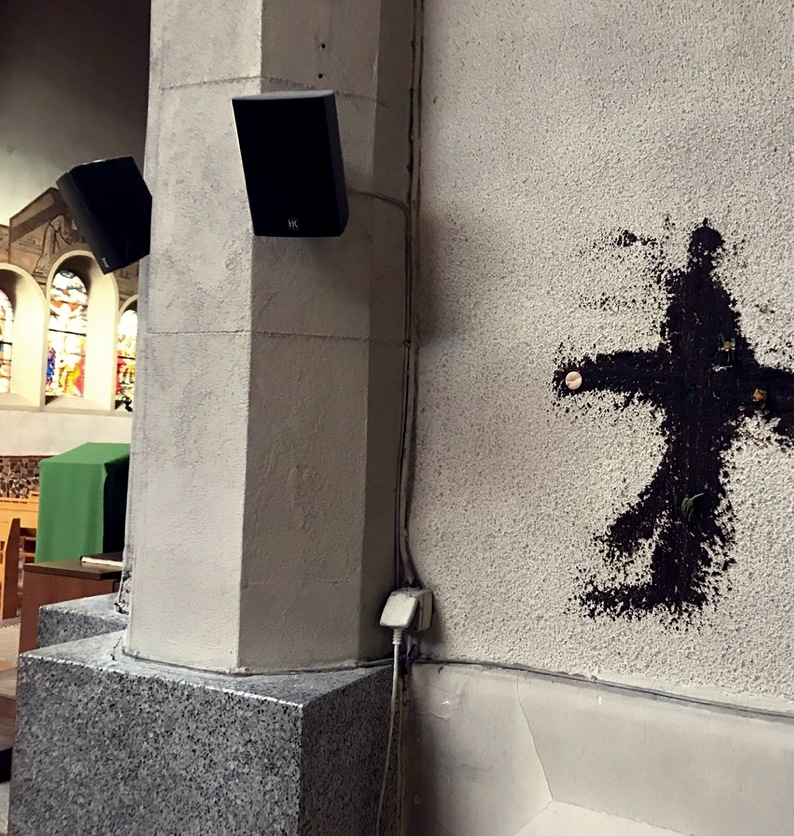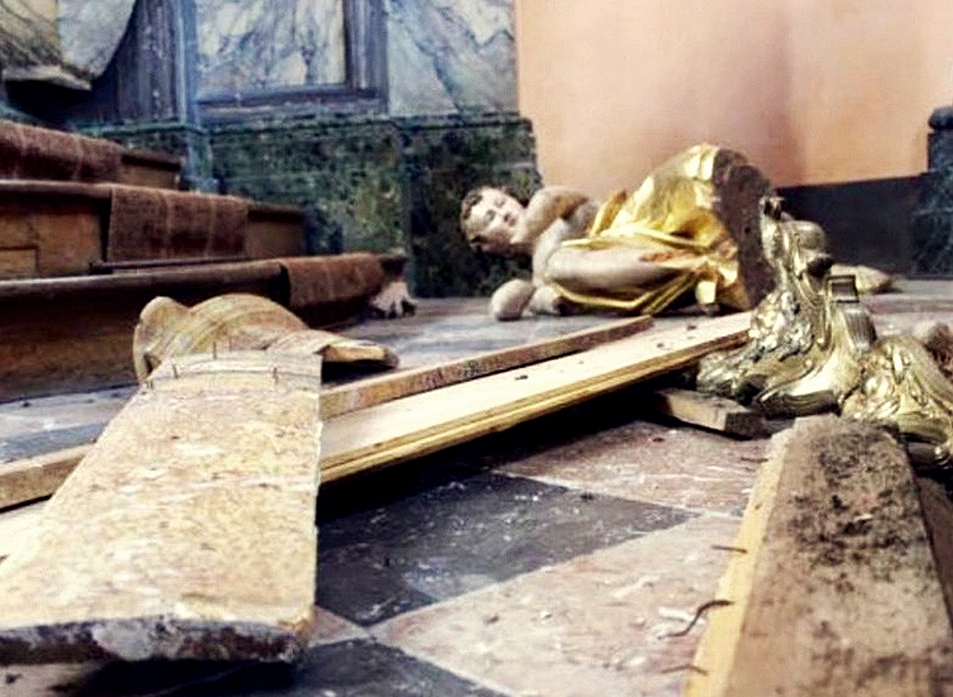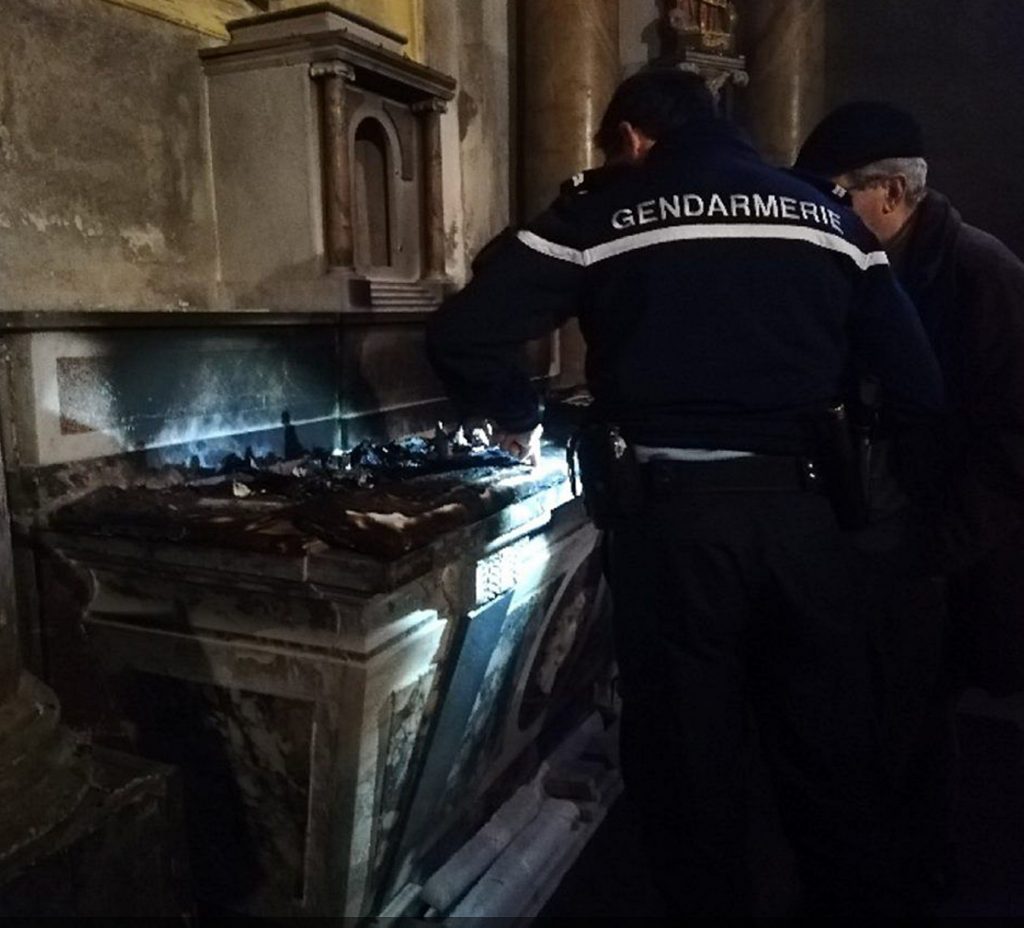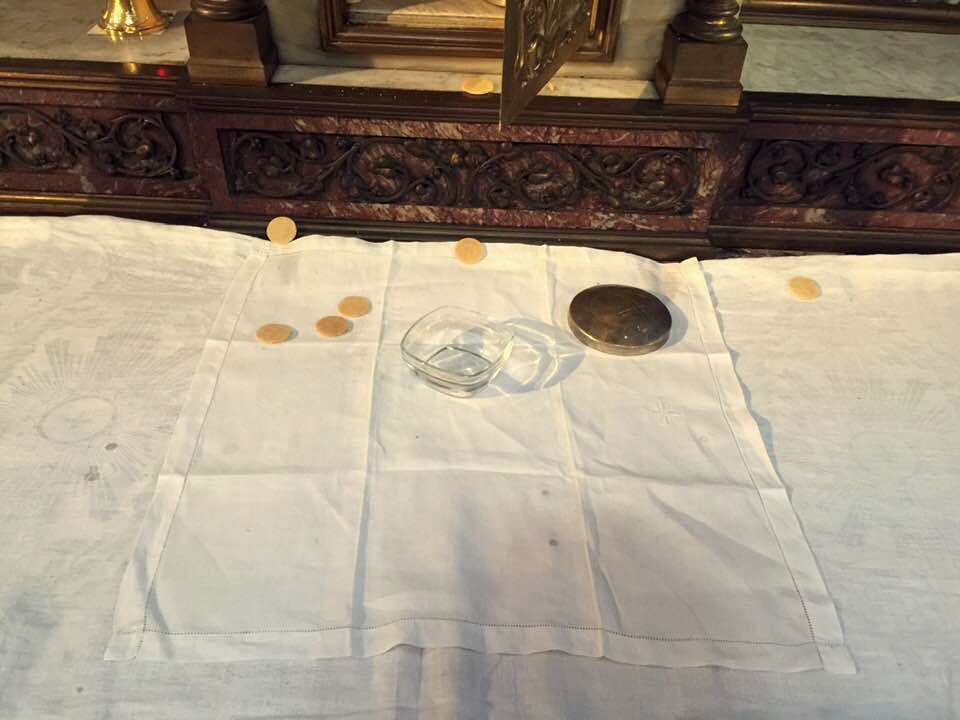 [These acts] are the sad reflection of a sick civilization that gets carried away in the nets of evil. Bishops, priests, the faithful must keep strength and courage. —Cardinal Robert Sarah, Tweet, February 10th, 2019
A Global Revolution has begun, and standing in the path of its "progress" is the Catholic Church. The prophet Isaiah, who foretold the coming of a worldwide purification before an "era of peace", seems to describe what is happening now in the West as Christianity is being purified and persecuted from enemies, both within and without.
Your country is waste, your cities burnt with fire; your land — before your eyes strangers devour it, a waste, like the devastation of Sodom. (Isaiah 1:7)
God doesn't care so much about our buildings—not if the living stones of the Church themselves are collapsing. Even now, as I write, I am hearing everyone from news commentators to Catholic prelates speaking about "rebuilding" — the typical, knee-jerk reaction when we lose something. Rather than rebuilding, however, this is a moment of relearning and listening to what the Spirit is saying to the Church. Everything must come to nothing, must enter the tomb, so that the Church will find again her "first love" and rise again humbler, purer, and true to her Lord (cf. Resurrection—Not Reform).
I will strip you of everything that you are depending on now, so you depend just on me. A time ofdarkness is coming on the world, but a time of glory is coming for my Church, a time of glory is coming for my people. I will pour out on you all the gifts of my Spirit. I will prepare you for spiritual combat; I will prepare you for a time of evangelism that the world has never seen…. And when you have nothing but me, you will have everything… —Prophecy given in Rome on Pentecost Monday of May, 1975, St. Peter's Square, Rome, Italy

I know your works; I know that you are neither cold nor hot. I wish you were either cold or hot. So, because you are lukewarm, neither hot nor cold, I will spit you out of my mouth… I advise you to buy from me gold refined by fire so that you may be rich, and white garments to put on so that your shameful nakedness may not be exposed, and buy ointment to smear on your eyes so that you may see. Those whom I love, I reprove and chastise. Be earnest, therefore, and repent. (Rev 3:15-19)
In the words of my good friend, professor and author Daniel O'Connor:
The symbolism will be all the more relevant if indeed this fire was started by the very renovations themselves. Such is exactly what so many in the Church are doing today. In striving to fight "clericalism," resolve the sex abuse crisis, make the Church more "relevant"—all ostensibly in their efforts to "renovate" the Church—many are striving to change her very doctrines, which will only hasten the destruction… —private email, April 15th, 2019
This is all but the beginning of the sorrows that must come to the Church as she enters her own passion. Indeed, Passion Week begins in the ashes of Notre Dame. And let us not forget what "Notre Dame" means in English: "Our Lady". May she come to our assistance, drawing for us through her intercession: courage, faith, and a true spirit of conversion. May this Passion Week be like none other as each of us comes to terms with our relationship with God—and who we love and serve.
These are some of the latest messages allegedly to the seer Pedro Regis of Brazil who enjoys the support of his bishop. While we continue to discern prophecies like this with the Church, I will say that the crux of these messages are consistent with what the Spirit is saying all over the world to attentive and chosen souls:
Dear children, the day will come when many will seek direction in the House of God and will find it in few places. Disorder will spread everywhere and few consecrated will remain faithful to My Son Jesus. I suffer for what comes to you. Tell everyone that God is making haste and that this is the opportune time for the Great Return. The Great Shipwreck of Faith will occur because of the bad shepherds who prefer to please the world. You who are listening to Me, do not forget: in everything, God first. Onward in the defense of truth. Be men and women of courage… —Message of Our Lady Queen of Peace to Pedro Regis, April 9, 2019

…You are living in a time of sorrows and the moment has come for your sincere and courageous "Yes". Bend your knees in prayer. Humanity has turned away from God because men have turned away from prayer and made commitments to the things of the world. Do not forget: in everything, God first. You have freedom, but do not allow your freedom to take you away from My Son Jesus. You are free in order to be of the Lord. Do not depart from the truth. When the Truth of God does not occupy a privileged place in your lives, the enemy wins. You are heading for a painful future. Days will come when you will seek the Precious Food in the House of God and in many places the table will be empty. I suffer for what comes to you. I ask you to keep the flame of your faith alight. When all seems lost, the Victory of God will come for the righteous… —April 6, 2019
And last, an account of the 19th century French seer, Marie-Julie Jahenny:
The Immaculate Mother (was) at the end of bitter tears, inconsolable at the thought of so many lost souls, whose ransom had cost so much. (i.e., those who die in a state of mortal sin during the punishments, will be damned.) "My dear Mother," said Her Son, "there must be an end to evil. If I put it off again, (i.e. the chastisements) all souls would be lost. (That is, if He did not cleanse the earth of hardened sinners, evil would grow so much on earth that eventually all the just souls would weaken and also fall into sin.) It is necessary that My Holy Church triumphs. How many times have you not warned France, your beloved daughter! Why did it always choke your voice?"—We Are Warned, The Prophecies of Marie-Jule Jahenny, E.A. Bucchianeri, p. 60
Your financial support and prayers are why
you are reading this today.
Bless you and thank you. 

To journey with Mark in The Now Word,
click on the banner below to subscribe.
Your email will not be shared with anyone.